Students/Graduates
Internships
Thesis
Working Students
Career entry
Are you about to decide on what to study? Are you looking for an interesting company for your internship, your thesis, or your first job?
You can be certain that studying with KRAH is the first step towards a successful future. The KRAH Group is not only world market leader, but also offers great opportunities for students who want to accelerate their career.
Make the first step!
Information for Students and Graduates
Do you want to get some work experience during your studies?
Then please apply. We accept speculative applications for internships in the areas of research & development, production, technical planning/development, procurement, engineering, quality assurance, controlling and HR.
We offer students of various fields interesting and challenging topics. You will benefit from our Know-How and will be able to check out your potential future employer. Our sector of activity offers a great basis for academic theses in many fields of study.
Relevant specialist fields:
Research & development, production, technical planning/development, procurement, engineering, quality assurance.
Please apply about three to five months in advance of your desired start date and let us know about your desired field and potential topics.
KRAH supports talents. You can apply your theoretical experience gained during your studies. Your work experience could be realised during the semester breaks, or alternatively a few days a week during semesters. You will have the opportunity to complete your studies, get valuable work experience, write your thesis with us, and last but not least, get your first job with us after completion of your studies.
Relevant specialist fields:
Production, Sales and Project Management.
Curricular design
You will be employed at KRAH from the very beginning of your studies. During the lecture period you will be a full-time student. During the semester breaks however, you will complete work experience with us. This way you will achieve both, theoretical and practical learning, at the same time.
Please apply and let us know your desired field of study.
Industry 4.0:
Implementation of machine, operating and process data acquisition of a manufacturing area in automated production.
Optimization of warehouse and shipping processes by using scanner technology
Concept and implementation of a measuring equipment for 100% inspection of a specific quality parameter
Process optimization:
Optimization of the process control of a production area
Conceptual design and production engineering implementation of a product labeling system
Optimization of the throughput of operating materials at a plant type
Are you about to or have already successfully completed your studies? We offer great opportunities at an entry-level. Are you interested in a trainée position, or do you want to start within a specialised field straight away?
Please check out our job openings.
What our employees say about us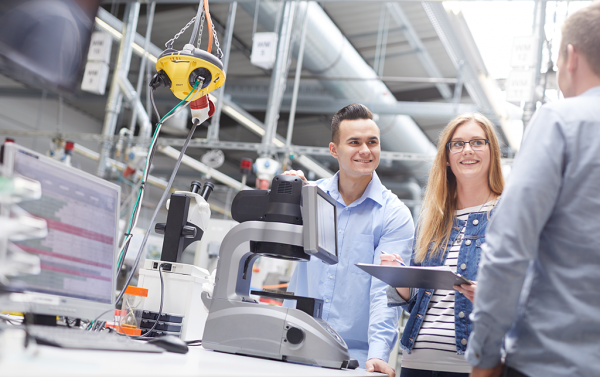 Jan Kiesewetter - Head of Quality Assurance
From trainee to division manager
I joined KRAH in 2011 directly after graduating. As a trainee, I received numerous training courses and was accompanied by an experienced mentor throughout the programme. Even after completing the trainee programme, I was able to develop steadily: since 2019, I have been in charge of quality management at the Drolshagen site - a really varied job in which I also interface with colleagues from other sites and other countries.
Although we are an internationally active group of companies and a global market leader in the automotive industry, open communication takes place here in flat hierarchies. I find that very enriching.